LED Street Lighting
The Public Works Street Lighting Division is working to convert street lights from traditional lighting sources, such as mercury vapor and sodium, to LED.
Improved Lighting Quality and Public Safety Benefits
LEDs provide better, clearer, and more consistent light quality that makes Boston's streets safer through:
Fewer streetlight outages as LEDs have a life expectancy of 15 years, compared to 5-6 years of mercury vapor streetlights.
A truer white light quality, which leads to better color rending, allowing colors to seem more natural.
Minimization of light trespass onto homes and businesses by the "aiming" of LED fixtures.
More consistent distribution of light resulting in fewer dark spots.  Traditional light sources typically provide too much light in the area directly under the pole. This ensures that the outer areas surrounding the pole are well lit. Light from each LED can be guided with secondary optics to spread the light more evenly and ensure clearer, consistent lighting at all distances from the pole.
Reduced Costs and Environmental Impacts
Up to 60 percent decrease in energy use and carbon emissions from LED lamps.
LED lamps last up to three times longer than traditional streetlights, reducing replacement costs significantly.
Conversion to LED Street Lighting
In 2009, the Office of Environmental and Energy Services (EES) and the Public Works Department (PWD) began looking into LED street lights and conducted several pilot installations on the Boston Common and in Jamaica Plain.  These pilot projects tested the performance and reliability of LEDs in Boston's weather and allowed the City to solicit community feedback.
After further staff research on LED technology and life cycle costs from the EES, PWD Street Lighting Division, the Clinton Climate Initiative, and the City of Boston decide to pursue a wide-scale conversion of electric street lights to LED technology in the Fall of 2010.
In total, the City of Boston has 64,000 electric street lights which use 65,000,000 kWh and cost $8 million annually.  Conversions of street lights began in November 2010, targeting mercury vapor cobrahead fixtures throughout the City.  By the end of 2012, the City will have converted over 40 percent of its streetlights (25,000 in total) to LED technology. This will save the City of Boston $2.8 million annually in electricity costs with plans to continue with more conversions in 2013.
Installation
The labor agreement for installation of the LED streetlight proved to be example of good government practice by finding the lowest effective cost through competition.  During December 2010 installations, PWD used both private contractors and City of Boston forces to install new LED lights, resulting in internal installations costing nearly 10 percent less.  Based on the lower cost and quality of the installations, City forces were selected to complete the rest of the installations in 2011, completing them at 25% less than the private contractor's costs.
Since this period of competitive service delivery, the City has continued to use a combination of internal and contracted installations to save over $100,000 in installation costs, as compared to initial bids.
Payback
The total cost of the City of Boston's LED street lighting program in Phase I is estimated to be $6.8 million.  Due to the longer life spans of LEDs (70,000 hours compared to 20,000 hours), a 60% reduction in wattage demand (with no decrease in luminosity), and decreased maintenance costs the estimated payback period before the NSTAR rebate is 2 to 3 years.  With the NSTAR rebate, Phase I has an expected payback of 1 year.
Next Steps
This conversion program is the first of many steps the Street Lighting Division will take to incorporate LED lighting into the streetscape.  Street Lighting will continue to work with manufacturers to develop solutions that allow the use of LED lamps while maintaining the traditional appearance of the light.
What are LED Lights?
LED stands for Light Emitting Diode. Traditional lighting sources produce light through a filament that eventually burns out. LEDs produce light when electrons move through a semi-conductor.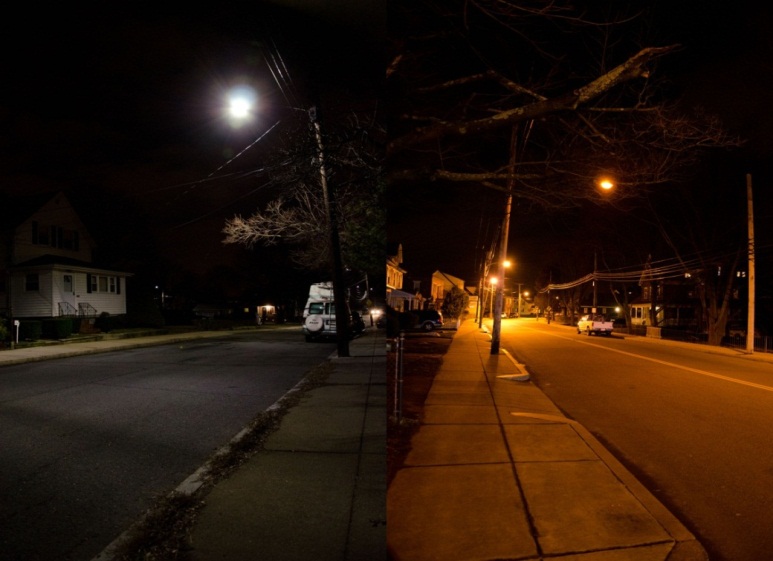 Side-by-side comparison of LED lamps (left) and sodium lamps (right)

Award Winning Results
The Public Works Street Lighting Division's LED streetlight program recently received the 2011 Leading by Example Award from the Massachusetts Department of Energy Resources. The Leading by Example Awards recognizes outstanding efforts that result in significant and demonstrable energy and environmental benefits. Public Works Commissioner Joanne Massaro accepted the award on behalf of the City of Boston from MA Energy and Environment Secretary Richard Sullivan.
 
Read in: 简体中文 (Chinese (Simplified))